Morbid sweating - hyperhidrosis - is a medical term for excessive sweating, a disease that begins at an early age and accompanies the affected person throughout life if not treated. Botulinum toxin (BOTOX) is a neurotoxin that binds the nerve endings of sweat glands. It blocks the production of acetylcholine, which mediates the production of sweat.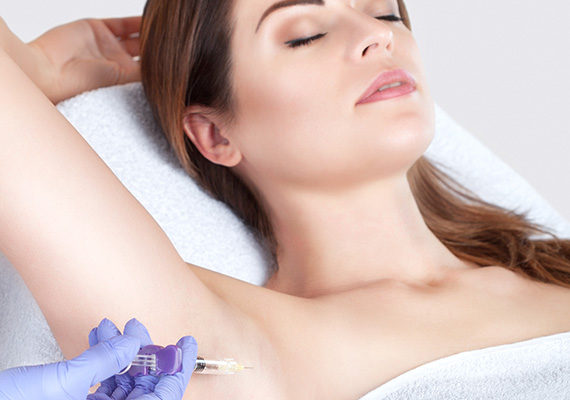 Duration of treatment:
20 - 30 min.
You can go out:
immediately
The result will come:
from 48 hours to 14 days
Duration of effect:
individual / 3 - 6 months
Armpits
Palm
Feet
Forehead
The principle effect of botulinum toxin (BOTOX) is to prevent the transmission of impulses from a certain type of nerve fiber to muscle or sweat gland. Botulinum toxin injections result in a significant reduction in local hyperhidrosis. The botulinum toxin is applied with a thin needle in very small doses to the skin of the affected area. The procedure is time-saving and painless. The result is a significant reduction in sweat formation.
Information about treatment
The effect of botulinum toxin will take effect after 2-4 days after application and lasts for a relatively long period of time (4-12 months). It is not a permanent cure, but a significant reduction in sweating.
Are you interested in this procedure?